Form To Fill Out Before Your Visit
This is not required, but you may find it easier to print this and fill it out at home rather than in our waiting room.
Helpful Note on Getting Here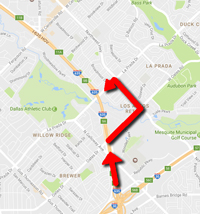 We are located at 1910 La Prada Drive in Mesquite (see large map below). We share the facilities of Speece Family Medicine.
Please Note: There is no exit to La Prada from north-bound I-635. We suggest the following:
From north-bound I-635, exit Oates and go right (north), then take a left on Northwest Drive and another left on La Prada.  Clinic will be on your left.
From south-bound I-635, exit La Prada Dr. and take a left.  The clinic will be on your right.